Women human rights defenders stepping up against gender based violence in Armenia
Project Description
The overall goal of this project is to contribute to the elimination of violence against women in Armenia. The project has a country-wide coverage.
Specific Objective
The specific objective of the action consists of two parts.
Specific objective 1. State adopts necessary laws, policies, and mechanisms to prevent and protect women from GBV and has greater capacities to provide effective, sensitive and multi-sectorial responses to GBV.
Specific objective 2. Women's, CSOs' and public awareness around the prevalence of DV/GBV and existing protection mechanisms is increased.
Expected Results
Social protection centers', healthcare institutions' and local state bodies' capacities and sensitivity on DV/GBV issues are improved
Necessary legal and policy documents and mechanisms are developed, adopted or amended by the state in partnership with the Coalition
Research and monitoring pieces on GBV against vulnerable and marginalized groups of women are undertaken by the Coalition and presented to the state and the public at large
A comprehensive training guidebook on DV/GBV issues is developed
Local women in the Shirak, Tavush and Lori regions are empowered and knowledgeable about DV/GBV issues
Emergency support packages are provided to vulnerable women affected by the coronavirus pandemic
Legal counselling on labour and social rights is provided to women during the coronavirus pandemic
Regional CSOs' knowledge and capacities on DV/GBV issues are increased
Local initiatives are carried out by regional CSOs in order to support women affected by the coronavirus pandemic
Public campaigns and festivals on DV and GBV issues are organized and PSAs are launched by the Coalition.
Project documents
Project map
Photo gallery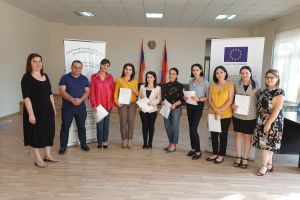 PROJECT DETAILS
Priority Area:
Partnership that protects, Partnership that empowers
Subsector:
Rule of law & human rights, Inclusion
Topic:
Human rights, Women
Project Status:
Completed
EU Project Number:
041-027