The authors of the "Maestro" app, Lucy and Arus, want to make classical music education more accessible in Armenia and the world
Professional musicians Lucy Bichakhchyan and Arus Nazaryan have been collaborating for six years. They recently created the "Maestro" application combining their shared passion for music and technology. According to Lucy Bichakhchyan, she could cooperate only with Arus in a beautiful business, such as this one. "Arus is really the author of the idea of the app and believes in using free, non-traditional educational methods. Since we have managed to implement various projects together many times, this one came about very naturally. We both want to leave a positive mark on the world, and doing it through music seemed like the most natural option for us", says Lucy.
Lucy and Arus, how did the idea for the "Maestro" app come about?
The idea behind creating the "Maestro" application is to make classical music education more attractive and enjoyable. Traditional methods of music education can sometimes seem dry and unappealing. These methods discourage young people, and they lose interest in music over time. That is why, while developing the application, we strived to create a game through which people can easily connect with the history and basics of classical music. Our value system is built around one goal – positively impacting the world through addictive educational content. The word 'addiction' is making some people wonder, but we are confident that businesses empowering people to be creative will thrive more than ever in the future. Hence, we tried to create an application with high-quality educational content that will be addictive for both classical music lovers and people interested in music in general.
Why was it important for you to create such an application in Armenia? Do you think there was a need for it?
Creating the "Maestro" application in Armenia was important for us, because we want to contribute to the development of innovative businesses and creative sector in the country. In addition, there is a lack of female founders in the Armenian technology market. We are certainly going to take advantage of Armenian rich musical heritage, so we will do our best to present it in the best possible way on our mobile app. Our mission is to make high-quality free mobile education available to the world, and we are proud to do it from Armenia.
What does the "Maestro" app offer to users, what age group is it intended for, and would people with visual and hearing impairments be able to use the app?
"Maestro" application offers a number of opportunities to expand user's musical horizons, including conversations with famous musicians, interactive games, music theory lessons, listening training exercises. The app is designed for anyone who loves music and wants to learn more about it, from beginners to seasoned musicians. It will soon be available for the visually and hearing impaired as well, with text-to-speech and closed captioning options.
What kind of content does the app have and what makes it unique?
In terms of content, the "Maestro" app offers a unique approach to music education, using the chat format to create a playful and interactive feel. The chat takes place between users and classical musicians. Among them are the famous Bach, Beethoven and, of course, representatives of Armenian music – Komitas, Aram Khachaturyan and others. It is important to consider that the game begins in the Baroque era and continues to the present day. Moreover, it is updated daily. The content of the application is in English, taking into account the possibilities of operating in the international market, however, we aim to provide content in Armenian and other languages as well.
What opportunities did participation in "Artbox" give your team?
"Artbox" is unique because it contributes to the development of creative businesses. We tried to participate in different incubators before, but "Artbox" was what we needed. It was aimed at solving the problems of businesses like ours. "Artbox" helped us fully visualise our idea and turn it into a business, understand its shortcomings and find the best possible solutions. Participating in this programme also provided our team with valuable networking opportunities and exposure to potential investors and partners. It also helped us refine our business plan and develop a marketing strategy.
What are the future plans for the app?
This year we plan to release the app and collect our first thousand of users. Attracting users is the easiest part, keeping them will be much more difficult. Future plans for the app include adding content and features, as well as expanding its user base to other countries. We also plan to continue improving the app's accessibility and adding social functions: learn with friends, share knowledge, etc.
"Maestro' is also an organisation in addition to being a mobile application. This year we want to start our next programme "Women in Harmony", which is a music education platform for Armenian women who want to acquire skills in the music business, i.e., to become producers, directors, stage managers, songwriters, etc. The goal is to see more Armenian women in important roles in the music business.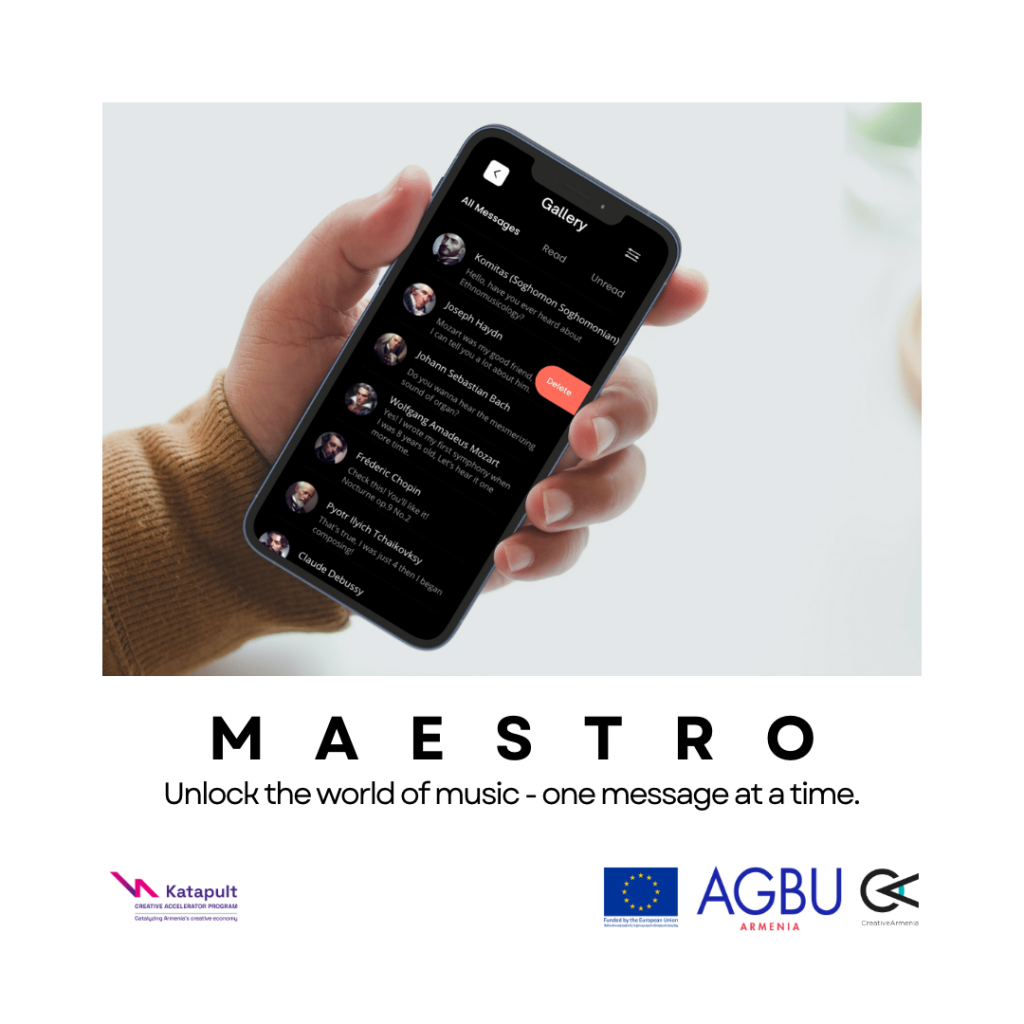 The "Artbox" programme was developed by "Creative Armenia" and is implemented in Armenia with funding from the European Union and in cooperation with AGBU Armenia within the framework of the "Katapult" creative acceleration programme.