Mayors for Economic Growth Facility
Project Description
The EU-supported "Mayors for Economic Growth" Facility aims to enhance economic inclusive growth and job creation in the Eastern Partnership (EaP) region by supporting local authorities in the EaP countries to design and implement Local Economic Development Plans (LEDP). The action complies with the overall strategy and outcomes outlined in the Action Document - by strengthening capacities of local governments, creating inclusive innovation processes for design of investable projects that correspond to the developed LEDPs, and investing in portfolios of projects, in a way that bring tangible benefits to citizens.

The proposed action, over a period of 4 years, will build on and integrate lessons learned from the first phase of M4EG and its forthcoming evaluation while also seeking to build synergies and avoid duplication with other LED programs already under way in the region. The Mayors for Economic Growth (M4EG) Facility is part of the M4EG initiative, launched and funded by the European Union since 2017. The M4EG Facility is run by UNDP, starting from 2021, in close cooperation with the EU, the local authorities, and a range of other partners.
Specific Objective
- Support local authorities in their participation to the M4EG initiative.
- Support the preparation and implementation of municipal projects building on approved LEDPs.

Expected Results
- Increased number of local authorities whose initiatives, building on systems approaches, are interconnected within each portfolio (targeting the 12 municipalities implementing the portfolio approach).
- Increased the percentage of local authorities staff that have applied good practices from other municipalities (targeting all the local authorities who participate in the initiative).

Project documents
Project map
Photo gallery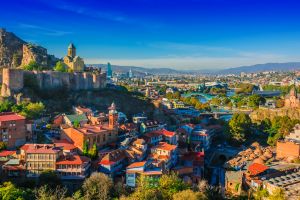 Videos
M4EG Facility video. Local development plans. corrected
Urban Learning Center intro video
M4EG Show & Tell video long
M4EG Show & Tell video short
M4EG video corrected
PROJECT DETAILS
Priority Area:
Partnership that creates
Subsector:
Economy & trade
EaP Countries:
Armenia, Azerbaijan, Belarus, Georgia, Republic of Moldova, Ukraine
EU Project Number:
133169